Personal
Gardeners come in all forms – the weekend tinkerer, the
DIY
super hero who does it all, the armchair observer who enjoys the view out the window or the social butterfly. We make sure that your garden design matches you – your personality, your interests, your space and your budget.
Responsible
We focus on sustainable designs to improve our environment by using native plants as much as possible, recommending permeable surfaces to minimize run off, and creating habitats for our local pollinators, birds and humans.
Educational
As a master gardener, Jen is trained to be a steward of the environment. As such, she is happy to teach clients about gardening techniques, plants and our local habitat.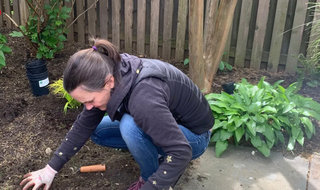 Jennifer Del Guercio
My pandemic pivot to landscape design brings together many years of experience in other fields. As a strategy consultant and health care technologist, my skills in project management, budgeting, long-term planning and client relationship building lend themselves surprisingly well to running a business! When you add in my education – undergraduate degree in Biology (Amherst College), masters in health policy and management (public health) (Harvard University), certification as a
DC
Master Gardener (University of the District of Columbia), certification in landscape design (Emory University) and a Chesapeake Bay Landscape Professional (2022) – my clients agree I bring a practical, creative, realistic approach to landscape design.
Let's talk!