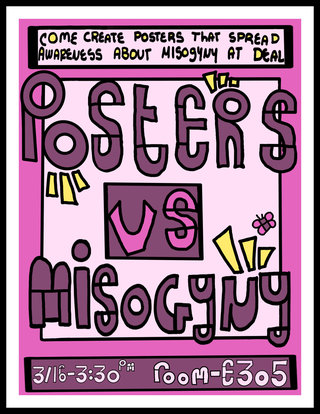 Posters

VS

Misogyny
is a student initiative that originated from the Deal MS 8th grade Community Service Project.
The objective of this initiative is to raise awareness about misogyny in the community and encourage action by creating a workshop where students can use their creativity to make posters that battle misogyny.
This workshop will be held on Thursday, March 16, beginning at 3:30 PM in room E-305, and it will last about an hour and a half.
All materials for the workshop will be provided.
After the workshop, the posters will be displayed around the building.
Thank you and I hope you can come!
Project by: Emilia Betancourt Bravo.